De hoogte in of net boven het wateroppervlak
Niet alleen de kraan, maar zeker ook het 'flush' dek van het Browema kraanschip maakt het vaartuig geschikt voor een breed scala aan projecten. Hoe hoog of laag er ook gewerkt moet worden, vanaf het kraanschip Thijs jr. is het mogelijk.
Het 'flush' werkdek biedt voldoende ruimte voor bouwstellingen of, als het werk hoger plaatsvindt, voor een hoogwerker. De dekkraan wordt vaak ingezet om projectmaterialen op moeilijk bereikbare plaatsen te positioneren. Een extra pluspunt van het kraanschip van Browema is dat deze – volgens de regelgeving – met één persoon gevaren mag worden.
Bij deze werkzaamheden is het kraanschip het ideale equipment:

Materieel op slecht bereikbare plekken positioneren met dekkraan

Reparaties en onderhoudswerkzaamheden aan kades en bruggen

Werken op hoogte, ideale ondergrond voor bouwstellingen en hoogwerkers

Schilderwerkzaamheden aan kades, bruggen en andere bouwwerken
Lengte:                                         24,64 m
Breedte:                                       6,15 m
Diepgang:                                    1,09 m
Hoogte:                                        3,51 m
Laadvermogen:                          33,65 ton
Kraan:                                          Atlas 190.1 A5 met lier
Lifting capaciteit kraan:            19 t/m
CCR2 Hoofdmotor:                    230 kW
Generator:                                  25 kVA
Onderkomen:                            max. 4 personen
Deployed in the following projects: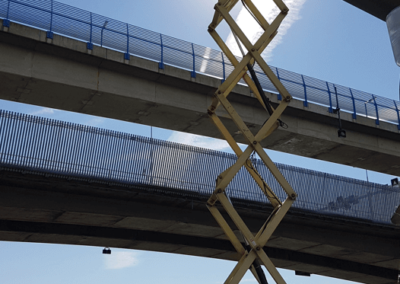 Browema's crane vessel Thijs jr. was allowed to assist with the work on the Hartelbrug, in the heart of the Rotterdam harbour.