Responding to market demands is a recurring theme in Browema's history. Through the many developments and the use of opportunities, the company has grown into what it is today: a stable company that always thinks in terms of possibilities.
The name is a derivation of Broekmeulen Werk Maatschappij. The family business was founded in 1983 by Thijs Broekmeulen senior. With his first ship 'Gerda' he contributed to the realisation of the work islands of the Delta Works. As the son of a tugboat captain, sailing was not foreign to Thijs Broekmeulen sr. The generations before his father were also professional skippers.
After completing the work for the Delta Works, Thijs was approached for a dredging and hydraulic engineering project in Germany. The job was supposed to last three months, but in the end it took more than three decades.
Next generation
Meanwhile, the second generation has taken over the helm of Browema. Stijn Broekmeulen joined the company in 2008 and since January 2021 he is the official director-owner, supported by his brothers Tom and Bart. Modernisation and an eye for sustainability go hand in hand with the company's traditional values. The love of water, doing business honestly and straightforwardly and always looking for the best solution are still paramount.
In the meantime, Browema was approached for various projects along the Dutch coastal and inland waterways, including the stationing of pontoons on the Haringvliet, the positioning of the jack-up island below the Haringvliet Dam, concrete repairs to the Beatrix Bridge in Zwolle and lifting work at the Hartelkering. Vessels and support equipment were purchased and modified especially for these projects.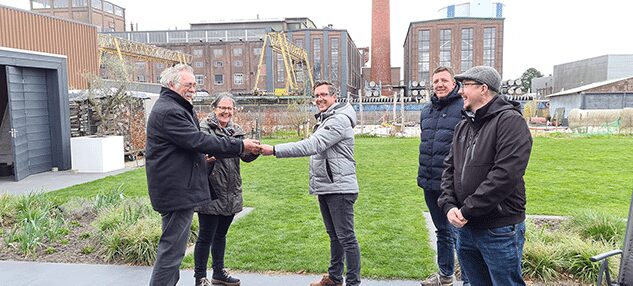 The official company transfer of Browema International B.V. into the spring of 2021 was a special moment for the Broekmeulen family. With the presentation of a statuette, director-owner Stijn Broekmeulen his parents thanked for the stable company they handed over. In continuing the business, Stijn feels supported by his brothers Tom and Bart.