Wide range of applications due to special specifications
Initially, Browema's workboat, named Speedy, is used to assist in the deployment of other Browema equipment. However, due to its specific characteristics, including a low structure, compactness and manoeuvrability, the workboat can also be used on its own for various purposes.
Thus, in combination with the demountable raft, small-scale painting work can be carried out. The spacious work pit offers sufficient space to transport the materials for this. In addition, the work boat also offers room for a number of people. Since the Speedy is very low and can sail under jetties at terminals, the work boat is ideal for carrying out inspections of pipelines, for example.
Length: 8.35 m
Width: 2.44 m
Height: 0.85 m
Engine output: 2x 125 hp, 30 km/hour
Crawl height: 1.20 m
Working vessel: 1.80 x 2.20 m
The workboat is the ideal equipment for this work.

Assistance for large-scale projects

Inspection of industrial objects

Small-scale painting jobs

Transport of small equipment and persons
Deployed in the following projects: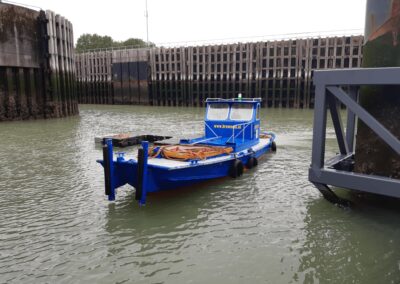 The manoeuvrability and small size of the workboat was ideal for painting the mooring pontoons of the foot/cycle ferry.